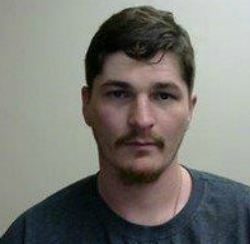 Nathan Paul McNelis
JAMESTOWN - Jamestown Police are warning residents of a convicted high risk sex offender who is now living in the community.
Nathan Paul McNelis is living at 1610 Business Loop East #14 (Starlite Motel #14). He does not have a vehicle.
McNelis is a 29-year-old white male standing 5 feet 10 inches tall and weighing 175 pounds. He has hazel eyes and brown hair. His most recent file photo shows him with medium-length hair and a mustache.
He was convicted in February 1999 of 1st Degree Rape involving a juvenile male in Brown County Juvenile Court, SD.
McNelis is not wanted by police at this time. He is on probation and GPS monitoring.
Jamestown Police Chief Scott Edinger cautions the public that attempts to harass, intimidate, or threaten Mr. McNelis, his family, employer or landlord will be turned over for prosecution.
Printed handouts of his demographics are available at the Jamestown Police Department. More information on registered sex offenders is available at the Attorney General's website:
www.sexoffender.nd.gov
.