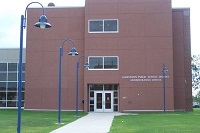 JAMESTOWN – A public forum at the Jamestown High School Auditorium on Tuesday, April 18 will ask the question, "Can Jamestown students be most likely to succeed?'. The open forum will discuss 21st century learning in Jamestown Schools and feature an abbreviated screening of the documentary Most Likely to Succeed followed by a panel discussion.


State Superintendent Kirsten Baesler, Jamestown Superintendent Rob Lech, Jamestown High School Principal Adam Gehlhar, and Jamestown Chamber of Commerce Board Member and Chief Financial Officer at First Community Credit Union Sean Rinkenberger, will consider how Jamestown students can be educated for success unless approaches to education evolve. The public is invited to join the discussion about what employers will need from employees, how students can be prepared for successful careers, and why a focus on success is more important than ever.
The forum will begin at 6 p.m. on Tuesday, April 18 at the Jamestown High School Auditorium. The event is being sponsored by the Jamestown Public Schools, Greater North Dakota Chamber and the Jamestown Chamber of Commerce.