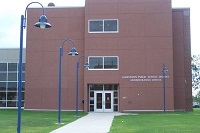 JAMESTOWN, ND -(submitted) – The Jamestown Public Schools Citizen's Advisory Committee has taken shape and invites the community to a town hall meeting on May 18.


The meeting will primarily be an opportunity to gather the community's input on future developments at Jamestown Public Schools, but will also allow the committee to share its initial priorities.
Town Hall Meeting
Thursday, May 18
5:30 – 7:30 p.m.
Jamestown Middle School Thompson Community Room
Since 2016, Jamestown Public Schools has been working to gather information and feedback on several items, including the expected life of our facilities, a 10-year capital maintenance plan including safety and security measures, updated enrollment projections, K-12 infrastructure and technology, flex space at the elementary level, locations of high school activities, JHS Transition House, and perspectives of staff, school board members and the community about 21st century learning and what our students need for careers of the future. The town hall is a next step in the information gathering and sharing process to help determine what's best for the future of our schools.
The Citizen's Advisory Committee was formed out of these discussions and members include:
School Board Members
Sedric Trevithick
Steve Veldkamp
School Leadership
Superintendent Rob Lech
JHS Principal Adam Gehlhar
JMS Principal Ryan Harty
Washington Elementary Principal Phyllis Clemens
Business Manager Sally Ost
School Staff Representatives
Kelly Bauer – 1st Grade Teacher at Gussner Elementary
Cody Mickelson – Foreign Language Teacher at JMS/JHS and JEA President
Mari Stilwell – Elementary Instructional Coach
Susanna Walker – Teacher at Jamestown North
Laura Weis – Language Arts at JMS
Community Representatives
Candace Dempsey – Retired
Travis Dillman – Engineer at Interstate Engineering and Current Interim City Engineer at City of Jamestown
Laurie Kramer – Licensed Social Worker
Carrie Orn – Dentist
Mindi Schmitz – Environmental Lobbyist and Former School Board Member
Michelle Solensky – University of Jamestown Professor
Harley Trefz - Retired
Ron Truax – Pioneer Seed
Dan Tweten – UTC
Larry Ukestad - Retired
Amy Walters – Director of Two Rivers Activities Center (TRAC) and Former Program Coordinator at South East Educational Cooperative