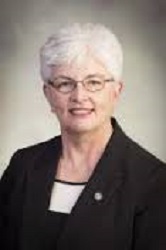 BISMARCK— North Dakota Democratic-NPL Senate Minority Leader Joan Heckaman of New Rockford and House Minority Leader Corey Mock of Grand Forks have issued a statement on their view of the first half of this year's legislative session.

" We've reached the halfway point of the 65th legislative session and, despite being in the minority, Democratic-NPL lawmakers have played key roles in passing legislation to build a stronger economy, protect working families and balance our budget without passing the burden onto seniors or our children.
One of the Legislature's most important accomplishments has been the bipartisan effort to support alternatives to incarceration. More than 80 percent of North Dakota's incarcerated population suffers from mental disabilities or substance abuse problems. Working in a bipartisan fashion, we've reinvested $7 million in services such as addiction treatment, counseling and education.
This reinvestment requires no new spending and will save taxpayer dollars that would otherwise be spent on overcrowded prisons by helping incarcerated individuals become productive members of society.
Education has always been the top priority of the Democratic-NPL caucus. In the first half of the session, we've worked on bipartisan legislation that increases innovation and creativity in the classroom, returns control over schools to the communities and families they serve and encourages qualified teachers to serve in rural districts or specific subject-areas that need to be filled.
While Democratic-NPL lawmakers are always willing to work across the aisle to support bills that truly benefit our students, we won't shy away from fighting against measures that hurt our education system. This session, we've helped defeat ill-conceived proposals to divert funding away from public schools, use taxpayer dollars to provide vouchers with almost no accountability and reject federal education funding, thereby shifting costs onto local taxpayers.
With each of these measures, our foremost concern has been to put the interests of students first.
Democratic-NPL lawmakers have strongly advocated for continuing Medicaid expansion, which provides health care to 18,000 North Dakotans. Medicaid expansion was discussed at length in the House, and we are pleased that this vital priority has received such strong bipartisan support.
We're also pleased that House Republicans heeded the resounding calls to oppose the proposed nursing home tax on seniors. Moving forward, Democratic-NPL lawmakers will be watching closely to make sure this new tax on seniors doesn't sneak back into a final version of the budget.
Incarceration, education, Medicaid and senior care are all important aspects of our state budget. As we address these issues, one thing is clear: we face a budget crisis. Agency funding is being cut 18 to 20 percent, and thousands of North Dakotans are waiting anxiously to know whether they will be able to keep their jobs.
This crisis is not the result of circumstances; in many ways, it is a crisis of the Legislature's own making. Over the past several years, the Legislature cut corporate taxes and reduced revenues while increasing spending. Now, our government's ability to keep its promises on property tax relief, funding for education, behavioral health, support for rural communities and many other priorities is in jeopardy.
Democratic-NPL lawmakers stand ready to engage in a good faith conversation about solving this crisis without defaulting on our promises to cities, counties, school districts and most important, the people we represent.
This is by no means an exhaustive list of the issues that have been addressed during the first half of the 65th legislative session. But we believe these are important issues that deserve to be highlighted.
As the minority leaders in both chambers of the Legislature, we are encouraged by the positive steps that have been taken, and we're confident in our ability to work together to address the issues that still require our attention."