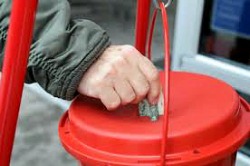 JAMESTOWN - After two years of missing its Red Kettle Campaign goal, the Jamestown Salvation Army reports the 2017 campaign brought in $145,700.
The goal was $145,000.
Maj. Tim Nauta said a surge of volunteers during the final week of the campaign at the Wal Mart kettle site likely made the difference. Nauta said donations at the site were around $9,000 in 2016, but rose to around $20,000 in 2017.
Funds raised by the Red Kettle Campaign help the Jamestown Salvation Army provide services to people in need. That assistance can range from helping with food, clothing, furniture, rent or other housing assistance, to helping to pay for medicines.