Hello Tractor Drivers,
Please consider driving in the KSJB Classic Tractor Tour! This will be the 15th annual on Saturday, June 16.
We'll begin 6:00 a.m. with registration starting at Napoleon Livestock. About 7:30, we'll go 17 miles to Beaver Lake State Park, where we'll stop for light refreshments. Then back to Napoleon Livestock for lunch, one free lunch for each driver courtesy of Napoleon Livestock.
To join the Tractor Tour, please fill out the registration form and send back ASAP to the address below. The sooner we have an accurate count, the better we can plan. Also, let us know of any special considerations.
Arrive early enough at Napoleon Livestock to unload, sign in, and be ready to leave at 7:30. Donuts & coffee will be served, full breakfast available
If you know someone who might be interested in joining the Tour, let us know, and we'll send them the information. Our toll free number is: 1-800-747-5491 ext. 305.
—————————————————————-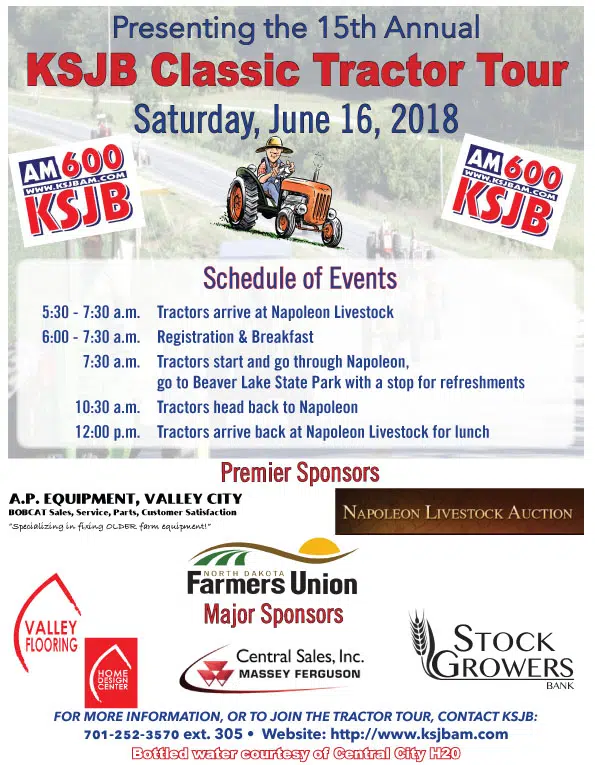 —————————————————
Tractor Tour
KSJB Radio
2400 8th Ave SW, Suite D-1,
Jamestown ND 58401 or fax to: 701-252-1277
Or you can complete and submit the registration form at www.ksjbam.com under Events/Tractor Tour
KSJB Classic Tractor Tour Staff