Steve Allen
Happy Hour (3pm – 7pm)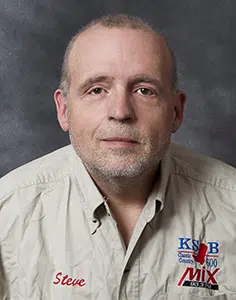 Steve Allen is originally from the Valley City area. He grew up in the small town of Leal, ND where he graduated from North Central School.
After high school he attended AVTI for Radio Broadcasting in Thief River Falls, MN.
Before coming to work for KSJB and MIX 93.3, Steve worked 6 years for a 4 station cluster in Devils Lake, ND – KZZY, KQZZ, KDLR, and KDVL as the overnight operations manager.
When he's not working Steve enjoys spending time with his parents, sister, nieces and nephews. Steve has a recording studio in his home and is working with some new up and coming artists from many different genres.
He enjoys snow skiing, dirt bikes and living on the edge almost everyday.
Catch Happy Hour with Steve Allen Weekdays from 3pm to 7pm
Steve Allen
steveallen@ksjbam.com
701-252-3570