NOAA: Bakken Formation Source of World-wide Uptick in Air Pollution
Posted by KSJB News on 4/29/2016 3:56:00 PM.
WASHINGTON (AP) — A new study has found that a single oil and gas field in the western United States is largely responsible for a global uptick of the air pollutant ethane.
More
---
South Dakota Seeks to Tax Online Purchases
Posted by KSJB News on 4/29/2016 3:49:00 PM.

PIERRE, S.D. (AP) — South Dakota is pressing for out-of-state companies to collect state sales tax on online purchases with a lawsuit against several remote retailers based on a law passed during the 2016 legislative session.
More
---
Zita Virus Case Confirmed in North Dakota
Posted by KSJB News on 4/28/2016 10:41:00 AM.
Bismarck, N.D.— (Jennifer Skjod) - The North Dakota Department of Health (NDDoH) recently received confirmation from the Centers for Disease Control and Prevention (CDC) that a woman who traveled to Puerto Rico while pregnant has tested positive for Zika virus. While Zika is associated with microcephaly and other birth defects, none have been identified in the infant. As a precaution, the NDDoH plans to monitor the infant for a year. The woman is the first North Dakota resident to test positive for Zika.
More
---
Local Law Officers Recognized for Safety Efforts
Posted by KSJB News on 4/28/2016 10:30:00 AM.
BISMARCK - (Ashlee Doan) - Over 160 representatives of law enforcement, transportation, engineering, public health and other safety agencies from across the state discussed traffic safety at the North Dakota Department of Transportation (NDDOT) annual Traffic Safety Partner Summit in Bismarck, sponsored by AAA North Dakota and Oxy Oil and Gas.
More
---
Bergquist: One Siren Failed During Warning Exercise
Posted by KSJB News on 4/27/2016 6:09:00 PM.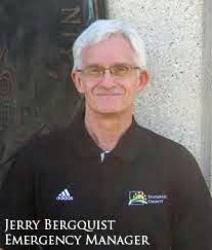 JAMESTOWN - Emergency Manager Jerry Bergquist says Stutsman County participated in the simulated state-wide tornado exercise Wednesday morning, April 27 as part of Severe Summer Weather Awareness Week. The exercise began at 11:15 a.m. with a test tornado warning initiated by the National Weather Service.
More
---
Next Entry